KOLKATA: The health of the mall industry in Kolkata is better than all other cities with seven out of its 24 malls categorised among the best in infrastructure, business and customer experience.
Also, only four out of the 24 malls or 7% of the gross leasable area (GLA) in Kolkata's malls are categorised grade C that are ghost malls and face a survival challenge. In contrast, 43% of GLA in Delhi NCR, 42% in Ahmedabad, 35% in Mumbai, 28% in Pune, 27% in Hyderabad and 25% in Chennai are grade C or bad investments that need repurposing.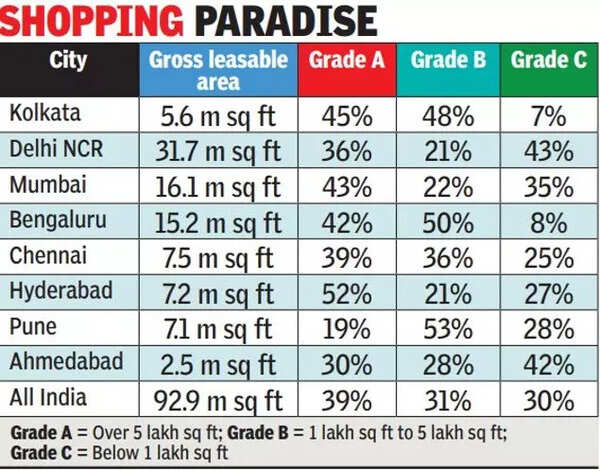 On the vacancy count too, Kolkata malls perform way better than other Indian cities. While the vacancy is 11.7% among all malls, if the four ghost malls in the city are done away with, then the vacancy reduces to 6.6%, better than all cities except Chennai.
Divya Agarwal, assistant vice-president (research) of international property consultant Knight Frank India that conducted a study of all malls in the top eight Indian cities, explained Kolkata's delayed entry into the mall business in 2002-03 and learnings from mistakes by mall developers in other cities have helped create facilities that draw customers.
The malls categorised A in Kolkata are South City, Quest, City Centre 1, Acropolis, Mani Square, City Centre 2 and Forum Courtyard. Of the rest, 13 malls are in B category that would require re-orientation to move to the higher category. "Most of the grade A malls in Kolkata have only 6% vacancy that points to the existence of a good demand for more grade A shopping facilities in Kolkata" she said.
According to the report 'Think India, Think Retail 2022 – Reinventing Indian Shopping Malls', between 2016-2017 and 2021-2022, sales volume in organised retail grew at a compounded annual growth rate (CAGR) of 24% to reach Rs 4.1 lakh crore. In the next six years, 2021-2022 to 2027-2028, organised retail is projected to grow at a CAGR of 17% to reach Rs 10.7 lakh crore in 2027-2028.
South City mall vice-president Manmohan Bagree said,the behaviour of customers has changed completely post Covid with consumption becoming more conspicuous and people open to living life king size rather than wait for better times in future. "People tried out online shopping in the past two years and are now returning to experience shopping in malls with a vengeance. This is the best time to be in business," he said.