NOIDA: The Noida Authority plans to develop a "natural trail of artificial zoo theme park" on the lines of Waste to Wonder Park and Bharat Darshan Park in Delhi. The park, which is planned near Mahamaya flyover in Sector 94, will be made on a construction, operation maintenance (COM) basis.
Spread over 25 acres near Okhla Bird Sanctuary, the park will be built under the recreational green category in the Noida Authority's master plan 2031.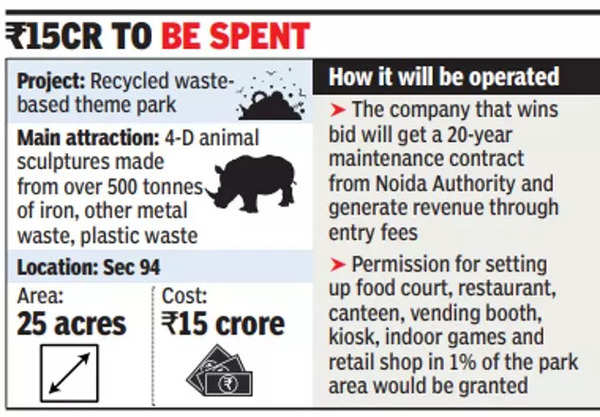 Over 500 tonnes of iron, other metal and plastic waste, lying in various godowns of the Authority, will be used in the park to create animal sculptures using the 4-D models. Officials said recycling the waste and putting it to use will get them an additional 5% mark in Swachh Survekshan.
About Rs 15 crore will be spent to build this park. However, the Authority will not spend money on the development of this theme park, as the private company, which is selected through an open bid, will bear the expenditure incurred on developing and building the structure in this park. The contract period to maintain the park will be for 20 years. While the ownership of the park will lie with the Authority, the private company will generate revenue through a mutually decided ticket fee to make the project economically viable. Besides, permission will be granted for setting up a restaurant, food court, canteen, vending booth, kiosk, indoor games, and retail shop in one percent of the area.
So far, no income has been generated from the parks that the Noida Authority has developed with its money. However, now the Authority not only hopes to generate revenues but also make it a place of interest for both domestic and foreign tourists.
"Waste to Wonder Park and Bharat Darshan Park are visited by a large number of domestic and foreign visitors. With this kind of theme park, the number of visitors to Noida too will increase. Moreover, a link road has also been proposed for Okhla Bird Sanctuary which will be developed as an ecological hub of Noida," said an official. The official added that according to the master plan zoning regulations, there is a provision to grant permission for amusement, specialised or theme park in the recreational green area by the Authority's board.