KOLKATA: Principals of colleges and teachers involved in the admission process have expressed concern over the high marks that students have scored and the gap in learning that the initial interaction has revealed.
One of the major challenges teachers will be facing is to make students up to date after the disruption in studies for two years due to Covid, they said.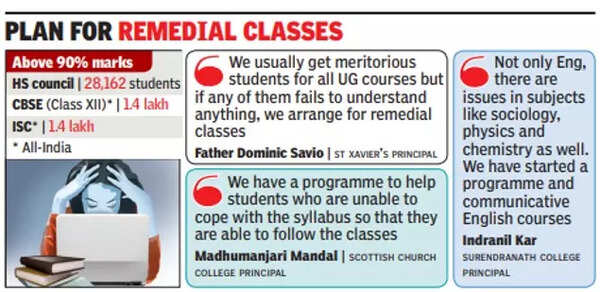 Of particular concern is English language skill among students who have opted for the Honours course in the subject. Chastened by the feedback from teachers who interacted with students during the physical verification of documents, Lady Brabourne College principal Siuli Sarkar is considering writing to the state and seeking permission to allow them to conduct admission tests from next year.
On September 6, when the physical verification was held, many teachers interacted with students of the respective departments who had scored 98%-99% marks in the board exams but fumbled with answers to simple questions. "We had received 5,000 application forms for the 25 seats in the English department but over half the students who have been shortlisted are unable to answer simple questions like one's favourite poet or author or books that they have read recently. Teachers are worried about how they will cope with the syllabus," she said.
Other than a handful of institutions like Jadavpur University, RKM Narendrapur and RKM Rahara College, most other colleges have admitted students on the basis of their board results. Realising the learning gap among students, some of them have chalked out remedial classes for 'weak' students so that there is a basic parity before teaching begins in earnest.
Scottish Church College has a programme called 'levelling up'. College principal Madhumanjari Mandal said that while they were unable to conduct an admission test due to a government order, the college has a programme to help students who are unable to cope with the syllabus so that they have a better understanding and are able to follow the classes.
St Xavier's College also has remedial classes that are offered as per requirement. Principal Father Dominic Savio said, "We usually get meritorious students for all undergraduate courses but if any of them fails to understand anything, we arrange for extra classes and remedial classes for upgrading themselves."
Surendranath College principal Indranil Kar said that while there are always a few students who have difficulty following classes, the number of such students have increased due to the learning gaps during Covid. "It is not just English, there are issues in subjects like sociology, physics and chemistry as well. We have started a mentoring programme and communicative English courses for the students," said Kar.