NEW DELHI:India's current account deficit (CAD) is expected to hit a nine-year or 36-quarter-high level of 3.4 per cent of the gross domestic product (GDP) in the first quarter of this financial year against a surplus of 0.9 per cent a year ago, amid a sharp rise in imports in value terms, led by high oil prices and a fall in the
rupee
, according to India Ratings and Research. The agency expects exports to slow going forward due to persistent global headwinds, putting "in jeopardy" India's target of achieving exports worth $750 billion this fiscal.
In absolute terms, the country's CAD touched $28.4 billion, or 3.4 per cent of GDP, in the April-June 2022 as against a deficit of $13.4 billion (or 1.5 per cent of GDP) in 4QFY22. CAD is the gap between the country's overall foreign receipts and payments. The current account deficit is usually financed by a capital account surplus.
"Although merchandise exports touched a record high of $121.2 billion in 1QFY23, Ind-Ra believes that they are likely to slow down and come in at $104.2 billion in 2QFY23, growing by a meagre 1.4 per cent yoy in 2QFY23 (2QFY22: 38.6 per cent yoy) due to the global headwinds," said Ind Ra.
The International Monetary Fund in its July update on the World Economic Outlook trimmed its forecast for global GDP growth to 3.2% in 2022 from 3.6% earlier in April 2022. Also, GDP forecasts of some of India's key exporting destinations such as the US, Eurozone and China have been revised downwards, which may may put India's exports targets of $750 billion (goods and services) for FY23 in jeopardy.
On the other hand, Ind-Ra expects merchandise imports to remain robust due to i) elevated global commodity prices (Brent crude averaged August 2022: USD100.7/barrel) and ii) weak rupee.
The agency expects the Indian rupee to average 79.6 against the
US dollar
in the second quarter of FY23.
Merchandise imports, which grew 40.5% yoy during July-August 2022 to $128.2 billion, is expected to come in at $192.2 billion in 2QFY23, increasing by 30.3% on year. All in all, Ind-Ra expects the merchandise trade deficit to come in at a fresh high of around $87 billion in 2QFY23.
India's merchandise exports reached $121.2 billion in 1QFY23 from $95.5 billion in 1QFY22, despite the Russia-Ukraine conflict. The year-on-year growth moderated to a five-quarter low of 26.8% due to the high base effect (1QFY22: 85.7%). The growth slowdown and high inflation in advanced economies coupled with disruptions in the global supply chain have begun to impact India's merchandise exports as it grew at a tepid 1.9% yoy in July-August 2022, noted India Ratings.
Key commodities such as 'petroleum products', 'telecom instruments', 'ready-made garments cotton inclusive accessories', 'wheat', 'sugar', 'articles of iron & steel', 'gold and other precious metal jewellery', 'motor vehicles' and 'aluminium & its products' accounted for more than 80% of the merchandise exports growth in the first quarter of FY23. While the volumes of these commodities grew in the range of 5.7% to 200.1% year, the value growth ranged between 28 % to 268.3% yoy. This indicates that the value growth in the merchandise exports was more pronounced than the volume growth in 1QFY23 as has been the case in the previous few quarters.
As seen in the table above, there has been a four-fold increase in volumes of telecom instruments exports in 1QFY23. "The push came from a higher demand from Hong Kong, the UAE, the US, China, Vietnam, Germany and South Korea. India's wheat exports benefited due to the Russia-Ukraine war as the warring countries accounted over 25% of the global wheat exports in 2021. India's wheat export volume quadrupled in 1QFY23 with the wheat demand coming from South Korea, Indonesia, Yemen, the UAE, Thailand, Philippines and Oman," said India Ratings.
Even for merchandise imports, value growth was more pronounced than volumes growth.
While the volume growth of nine of the top 10 items grew in the range of negative 58.3% to 3,048.3% yoy, the value growth ranged between 30.4% to 3,328.2% yoy in the same period.
There were a couple of items such as inorganic chemicals and manufactured fertilisers whose volume growth was negative (negative 58.3% yoy and negative 5.6% yoy, respectively), but their value growth was positive (87.1% yoy and 64.2% yoy) in 1QFY23.
Prices of energy, non-energy and precious metals increased 85.6% yoy, 18.3% yoy (a six-quarter low) and negative 0.4% yoy, respectively, in 1QFY23.
Within non-energy, the prices of fertilisers, base metals, and oils & meals rose 113.6%, 12.3% (lowest increase since 3QFY21) and 27.2% yoy, respectively, in the same period.
Since global prices are mostly a passthrough, any surge in the global prices of key items gets passed on to the domestic economy in the form of higher input costs.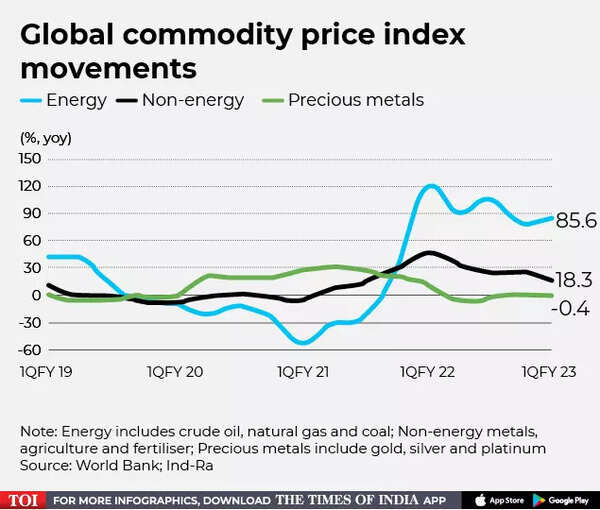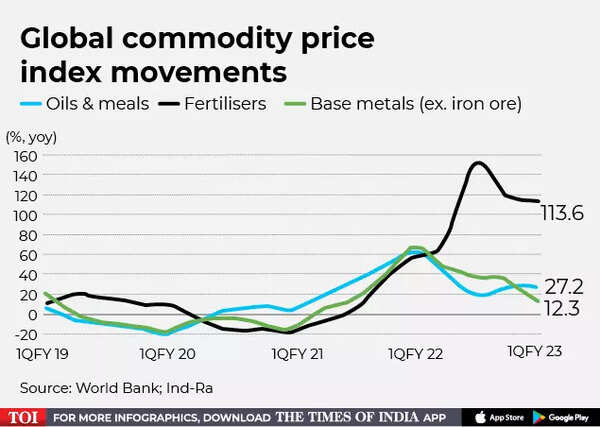 Imports of petroleum crude, coal, coke & briquettes, petroleum products and manufactured fertilisers grew 101.9% yoy, 191.9% yoy, 80.6% yoy and 64.2% yoy, respectively, in value terms, pushing the wholesale inflation to an unprecedented 15.7% in 1QFY23.