NEW DELHI: From principals to teachers, government schools in the city are facing an acute shortage of manpower, according to Directorate of Education (DoE) data.
Of a total of 950 sanctioned posts for principals, only 154 have been filled while 796, or 83.7%, are lying vacant. Most of the schools are being run by vice-principals. Even in the case of vice-principals, of 1,670 sanctioned posts, 565 (about 34%) lie unfilled.
In the case of teachers, 21,910 of the total 65,979 sanctioned posts are yet to be filled, that is, 33% are vacant. These vacancies have been filled with 20,408 guest teachers, but it still leaves a gap of 1,502.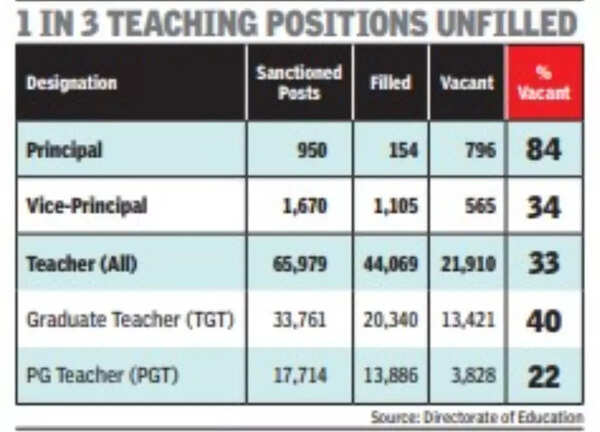 "Recruitment of school principals is to be done by the UPSC. The exam has finally taken place. We are hoping to get a big lot of principals soon. It is the same with teachers," said a Delhi government source. "The Delhi Subordinate Services Selection Board, which reports to the Centre directly, keeps delaying teachers' recruitment."
At present, out of 33,761 sanctioned posts of trained graduate teachers (TGT), well over a third (39.7%) — 13,421 — are vacant while 20,340 have been filled. TGTs teach up to class X.
In the case of postgraduate teachers (PGT), out of 17,714 sanctioned positions, 13,886 have been filled while 3,828 (21%) are vacant.